To add or edit customer or supplier, open management section and select Customers & Suppliers menu.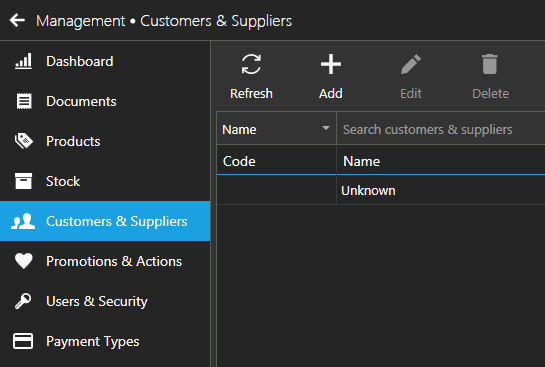 To add a new Customer or Supplier, Click "Add" button located in top of screen. New screen will appear with the following fields: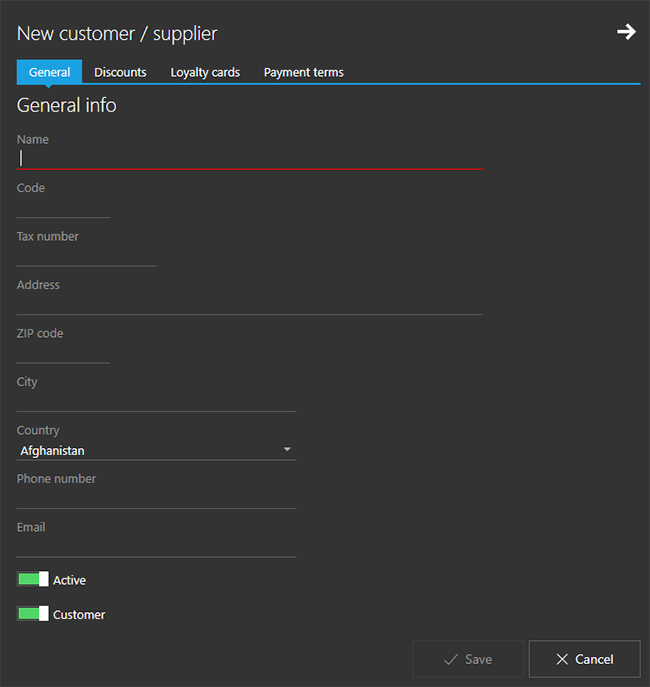 General info
In this section you can enter general info for yours customers or suppliers:
Name
Customer or supplier name, can be any text.
Code
You can set your internal code for customer or supplier, or you can leave blank it is not mandatory field.
Tax number
In this field you enter tax number for your customer or supplier
Address, Zip code, City, Country
In these fields you are entering yours customers or suppliers address details
Phone number
Your customer or supplier contact phone number
Email
Your customer or supplier mailing address
Active
Define is your customer or supplier is active or inactive. Company/person Won't appear in lists when making sales or purchases.
Customer
If enabled, this company or person will be treated as customer and will be available in sales for assigning a sale to this entity
Note
In Aronium software one entity can be used for both purposes as customer or supplier. Flags Customer and Supplier are used if you need separate this companies or persons. If you decide that some company can't be your customer, you simply disable customer option in general info for that company and after that this company/Person won't appear in POS section when you make sales. Sales bills can't be made for this company/person.
Discounts
You can choose to automatically apply discounts to specified product or product group to a customer. 
Read more about setting up predefined discounts at Customer discounts page.
Loyalty cards
You can use loyalty cards to identify your customers. 
Read more about assigning a loyalty card to a customer at Loyalty cards page.
Payment terms
Every customer can have custom due date set. This field is used to set due dates on sales made for this customer. This info is useful when you are using credit payments, allowing users to pay for the goods later.

Edit customer or supplier
To edit a customer or supplier, select the one you wish to edit and click "Edit " button 
Modify the values and click "Save".