This printer type is using a Windows driver to print receipts as graphics. Most modern thermal printers are capable to print graphics so there is no need to upload a logo to the printer and no need to set a code page.
With this printer type, it is much easier to get desired and modern receipt look.
Testing Windows printer
In order to ensure your printer supports Windows print and graphics printing, you can try printing any text from any text editor (Notepad, for example).
If text from Notepad has printed as expected, you can safely use "Windows " printer type.
If you selected that your printer type is a Windows printer, your printer settings screen will look as in the screenshot below.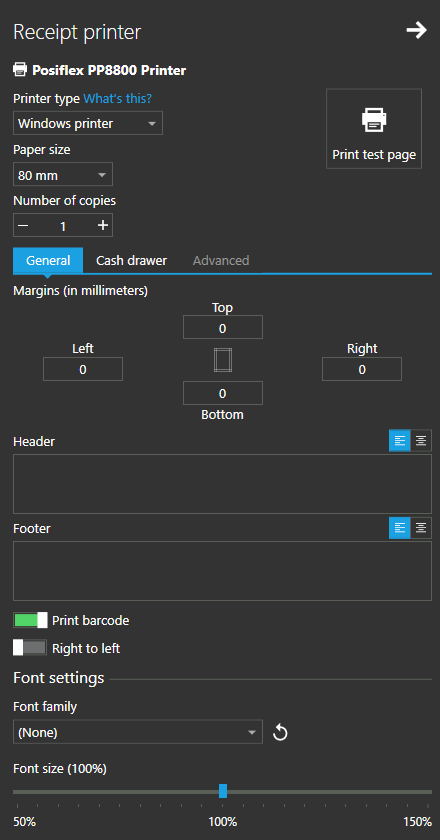 On this screen, you need to set the roll paper size in millimeters.
Also, you can set the number of copies.
General
The General tab contains the following properties that can be modified:
Margin
You can adjust the receipt margin to fine-tune receipt width
Header
The header will be printed before printing document body.
To align the header and footer, use the alignment option on the right side

Footer
Footer is printed after the print document.
Print barcode
If turned on, a barcode with the receipt number will be printed at the bottom of the receipt
Right to left
If turned on it will use right to left (RTL) orientation for the text on the receipt
Font settings
This section allows you to change the font family by selecting any installed font from the drop-down list and to change the print size by simply using the slider.
Cutting a paper
These printer types rely on your Windows printer driver to handle the print job, meaning that your printer should be responsible for cutting the paper at the end of print.
To set paper cut on your printer, find the printer in Control Panel and adjust print options, similar to the screenshot below.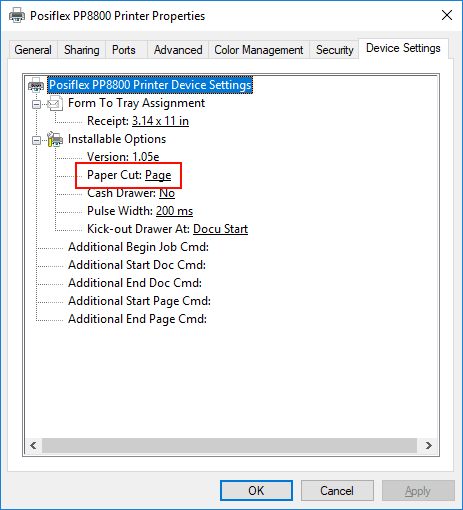 Cash drawer
This tab gives you the ability to enable and set up your cash drawer.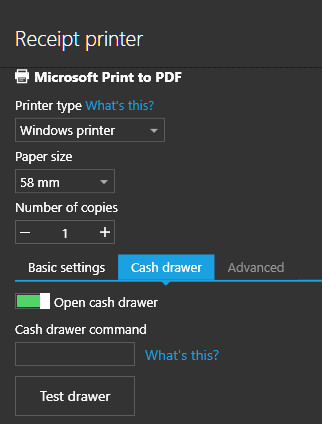 If you are equipped with a cash drawer connected to your POS printer, you can select this option to kick the drawer after the receipt is printed.
You can read more about cash drawer setup on the Cash Drawer page
Advanced
The advanced settings option is not available for this printer type.