To add a loyalty card to a customer, open management and select customer section.
Find the customer you wish to add loyalty card, select it, and click "Edit" button.
In edit customer screen, select "Loyalty cards" tab.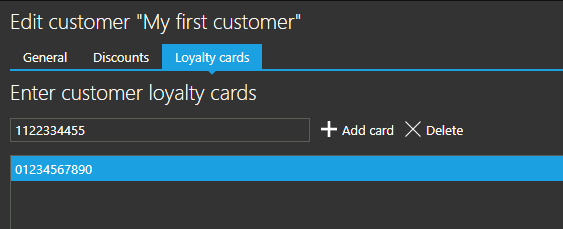 Enter loyalty card and click "Add card" button.
Add loyalty card using RFID or magnetic card reader
If you are equipped with an RFID or a magnetic stripe reader, read a card using your card reader while number field is focused, it will be automatically added to a list.
You can add as many loyalty cards you need for selected customer.
With loyalty cards assigned, you can add customer to a sale much easier.
Deleting a loyalty card
To delete loyalty card, select the one you wish to remove and click "Delete" button.