Print stations plugin comes as a separate installation and can be downloaded from www.aronium.com/en/features/print-stations
License
Print stations plugin requires a subscription. You can find more info on how to activate a trial
here.
Print stations allows you to specify where each product or product group will print. With print stations set up, each time a product is ordered, a kitchen ticket will print on dedicated printers.
Simple example
Let's say a customer ordered a pizza and some drink.
Assuming you have your print stations correctly set up, once order is confirmed, two separate kitchen tickets will print: one in kitchen and another one in a bar. Kitchen receives an order for a pizza and a bar will receive an order for a drink. This way, each stations receives only what needs to be prepared in a given location.
Adding print stations
You can have as many print stations you need in your location. To add print stations, follow the steps below.
Open management and select "Print stations" menu on the left
Click "Add station" button on top of the screen
Flyout will open on the right for you to enter print station name
Save changes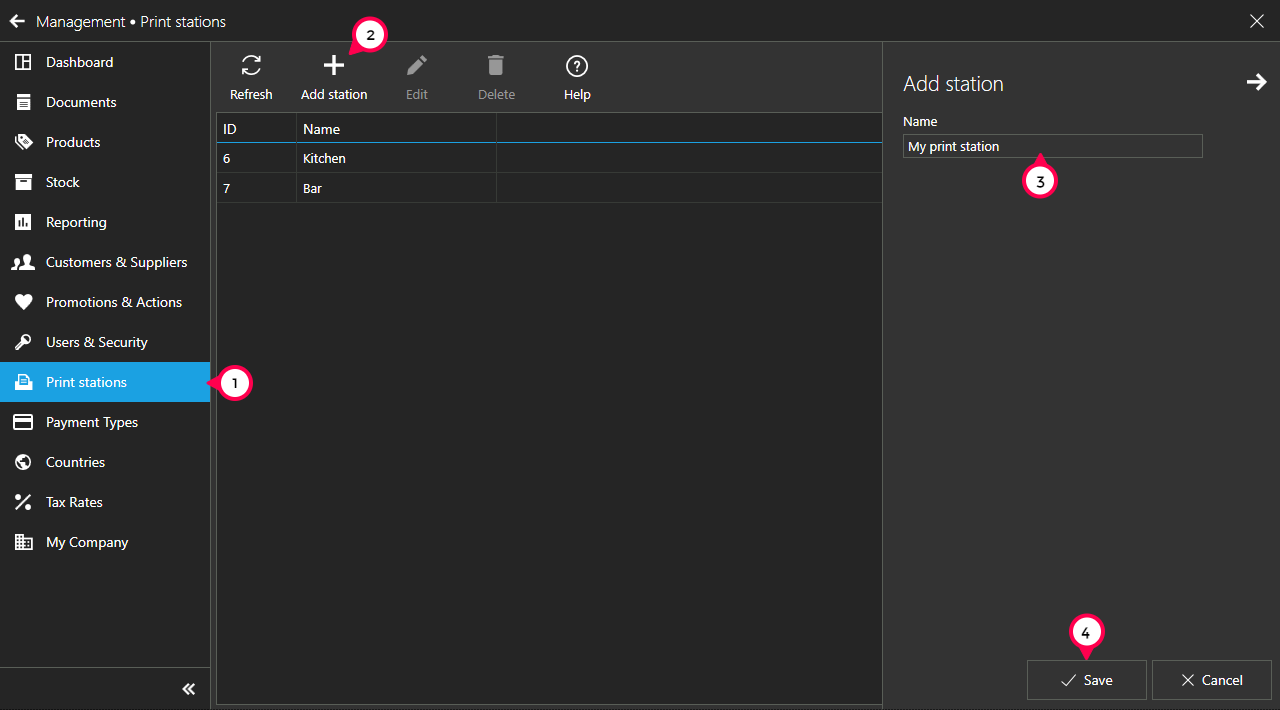 Assigning print station to a group
Assigning print station to a product group simplifies maintenance in the future, as any product added to that group will use assigned print stations.
Go to Management > Products section
Select a group you wish to assign print station to
Click "Edit group"
In product group screen, select "Print stations" tab
If no print stations were assigned, click "Assign print station" button
Select print station where products from this product group should print
Save changes
Assigning print station to a product
You can assign print stations directly to a product, too. Any print station assigned directly to a product will have precedence over print stations assigned to its group, if any.
Go to Management > Products section
Select a product you wish to assign print station to
Click "Edit"
In product screen, select "Print stations" tab
If no print stations were assigned, click "Assign print station" button
Select print station where product should print
Save changes