With advanced CSV import, you can use any CSV file to import products to Aronium, by simply matching your CSV headers to Aronium product properties.
You can read more about importing products and product properties at import products using CSV guide.
We strongly recommend you to read formatting CSV file before you start import process, the same rules applies for both "Basic" and "Advanced" import.
Column headers
Make sure your CSV file contains headers, as first line in a file is used to display column names to map to Aronium product properties.

To import your CSV file, click "Select file" button at the top of the screen.

 

File dialog will appear, allowing you to select CSV file from your computer containing products for import.
Once you have selected CSV file, match the content to corresponding product properties.
For example, if your CSV file contains column named "Item name" which represents product name, select "Item name" from drop down list right to the "Name" field. Do the same for other product properties.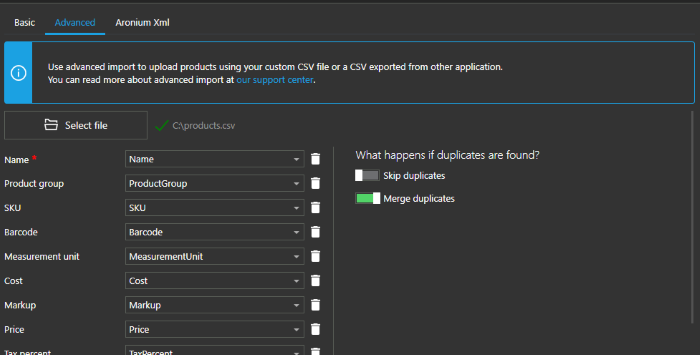 Required fields
Product name and tax are required fields. Required fields are marked with asterisk.
Tax value represents percentage value of a product tax.
What happens if duplicates are found
In case products contains duplicate code or name, import will be aborted. For this reason, there are two options you can choose from.
Skip duplicates - In case duplicate product is found, it is skipped
Merge duplicates - In case duplicate product is found, barcodes, if any, will be added to existing product
Preview content before import
You can see preview of matched result by clicking "Preview" button at the bottom of page.

Results will be shown in table below.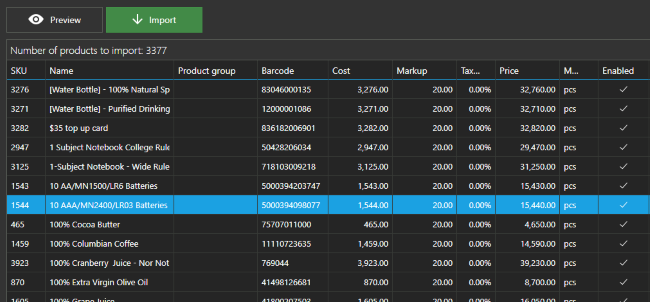 Import products
Once you are ready for import, click "Import" button.
Progress dialog will appear until import is complete. Depending on number of items, import can take a while.

Once import is complete, a confirmation screen will appear, displaying the number of created or updated records.