To prevent negative quantities in your inventory, enable stock control option in settings.
To enable stock control, do the following:
Go to "Order & payment" section
Enable "Prevent negative inventory" option, as shown in picture below.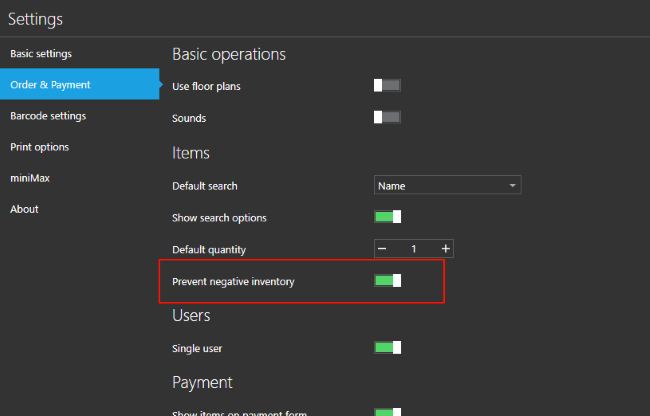 Once this option is enabled, Aronium will check if there is enough quantities on stock before item is added to the sale.
In case there is not enough quantity on stock, you will be notified with the following message:

If you click "Yes", item will be added to a sale, as a regular one does.
Required quantity
Required quantity in a notification message represents total quantity required/ordered for selected product.
Required quantity will sum the following:
Item quantities ordered by any user in other open sales, if any
Confirmed quantities in current order
New quantities being added to the sale
For this reason, it may happen that required quantity displayed is greater then the selected in a current sale.
Securing zero stock quantity sale
If you wish to prevent users from selling items that will go negative in stock, you can do this by setting permission level required to sell a zero stock quantity item.
For example, if you wish to allow only managers or supervisors to sell zero quantity items, do the following:
Open management
Go to "Users & Security" section
Select "Security" tab
Look for "Zero stock quantity sale" and set desired access level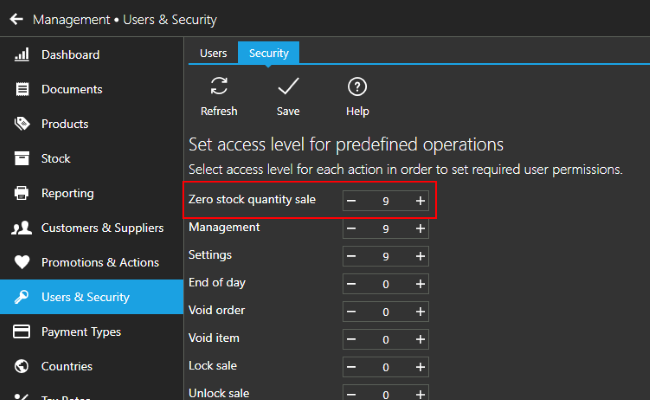 Once you set permission level for "Zero stock quantity sale", users with lower access level will be asked for manager password before they can proceed with sale.
Default access level
Without specifying access level, all users will be able to sell zero quantity items.