As mentioned in payment types section, you can set any payment type to act as a "credit payment" by leaving "Mark transactions as paid" unchecked.
Return change option for credit payment method
When selecting a payment type as a "credit" payment type by turning off "Mark transaction as paid" option, make sure "Change allowed" is turned off, too.
This way, application will know how to calculate change amounts correctly in case you decide to use split payment option with "credit" payment.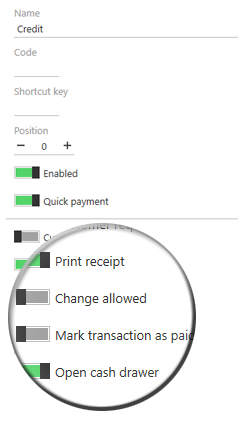 Once sale is made using a payment type that has "Mark transaction as paid" turned off, you will be able to track unpaid documents and open transactions.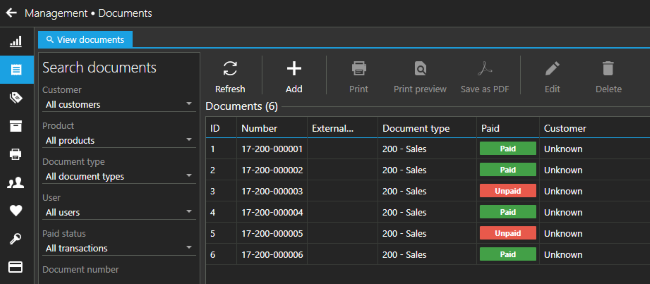 For example, you can create a "Credit" payment type and turn off "Mark transactions as paid" option for that payment type. If your decide to let your customer pay later, close the sale using this "Credit" payment type, and it will be marked "Unpaid".
Filtering unpaid documents
To track your open transactions and unpaid documents, simply select "Paid status" filter in documents view. You unpaid transactions will be displayed.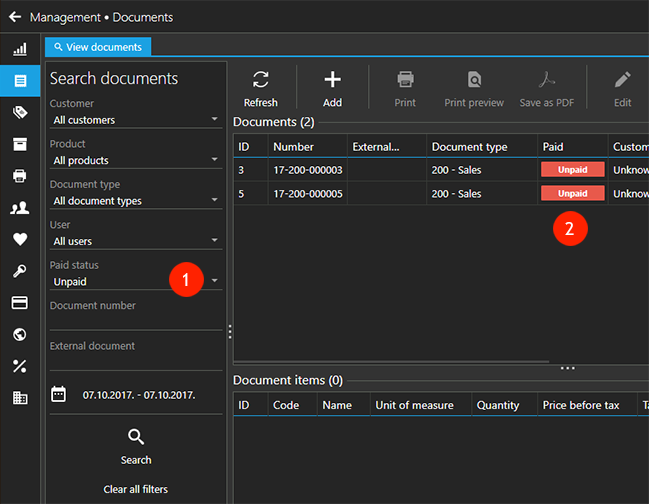 1) Filter documents by paid status
2) View paid status in document list
Mark transaction as paid
Once your customer has paid the bill, you can change the status of that document by opening it for edit, and change its paid status.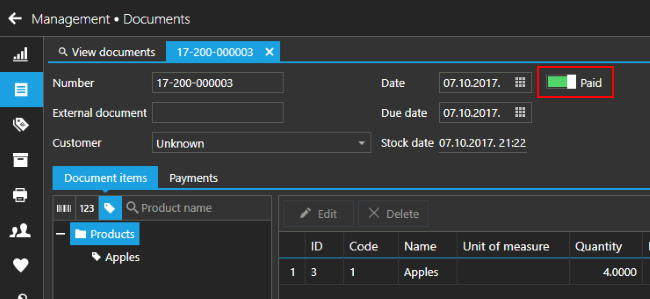 Once you have changed paid status for selected document, save it to apply the changes made.
Optionally, you can use context menu in documents view to quickly change paid status, by right clicking the document and select "Paid status" options.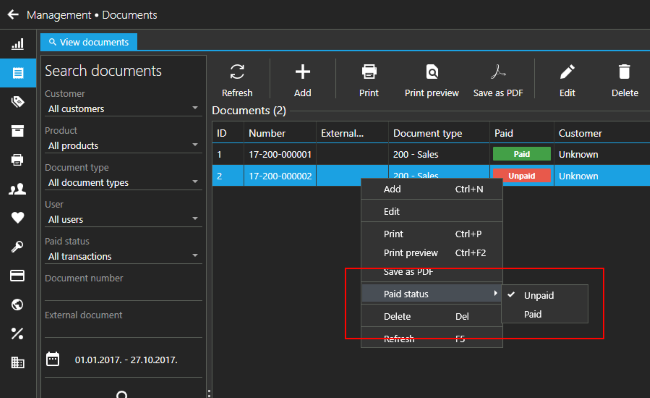 Updating payments for unpaid transaction
Additionally, you can change payments for this document, if you wish to remove "Credit" payment type and to add actual payment type used for closing this sale. For example, if customer paid in cash, you can replace "Credit" payment type with "Cash".
To modify payment types used for this transaction, edit your sales document, select "Payments" section and modify payment types and payment amounts to match actual transaction amount.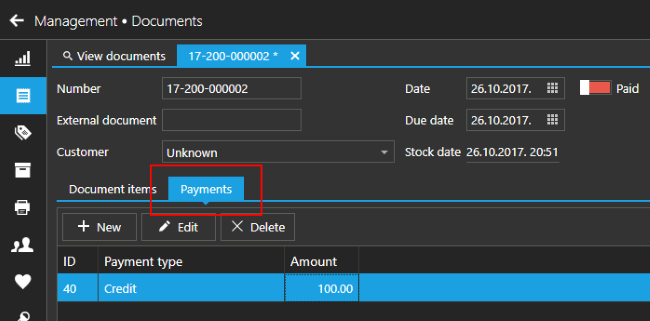 Leaving "Credit" payment type in a document
You can leave "Credit" payment in document when you mark one as "Paid". This may be handy to track how much "Credit" payments you had in a period.
Reporting
You can track summary of your unpaid documents in reporting section, by selecting "Unpaid sales" or "Unpaid purchase" reports.