This section allows you to set defaults when entering new products to your catalog and to choose how prices are displayed and printed in sales.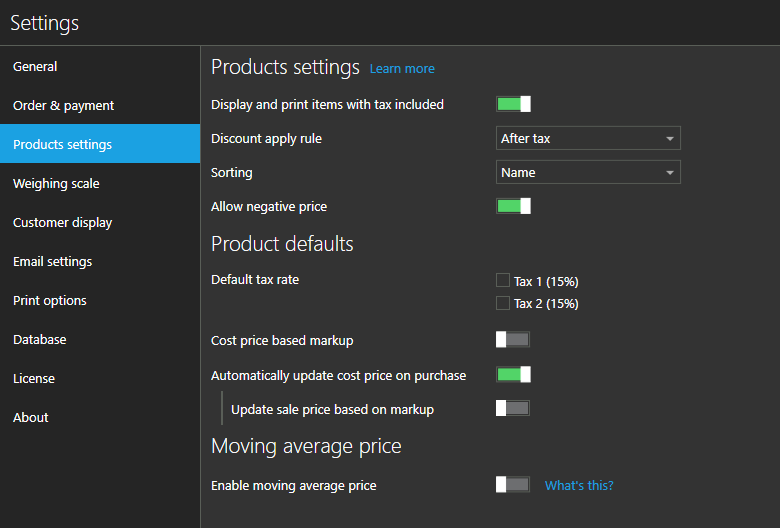 Display and print items with tax included
If turned on, prices will be displayed in sales screen and printed in receipt after tax. Otherwise, if this option is turned off, prices will be displayed and printed before tax.
Discount apply rule
Specifies whether discount is applied before or after tax.
This is very important for fixed discounts, as applying fixed discount before or after tax results in different subtotals and totals.
Allow negative prices
If turned on, you will be able to enter negative prices for products and to use negative prices in sales.
Product defaults
Default tax rate
Sets default tax rate used when adding new product.
Cost price based markup
This option allows you to select how prices are calculated when cost price is changed.
If this option is selected, once you change your cost price, markup will be calculated, otherwise, markup will remain the same, and sell price will be changed accordingly
Automatically update cost price on purchase
If enabled, purchasing product with different price (price in purchase document is different then current cost price set on product) will prompt you to automatically update product cost price.

Update sale price based on markup
If enabled, sale prices will be changed when cost prices are changed in purchase or using Moving average price. New sale price will be calculated based on product's markup and new cost price.
If moving average price is enabled, the field for product cost price in product screen will be disabled and will always show a currently calculated cost price. Learn more