Setting up cash drawer
If you are equipped with cash drawer (a till) connected to your POS printer, you can configure Aronium to automatically kick drawer on finished sales or on request.
To configure cash drawer, go to print options, and click "Printer settings" button next to selected receipt printer.

Compatibility
Cash drawer is currently working when connected to POS printer only.
If your cash drawer is not connected to receipt printer, this functionality will not work.
A dialog with print options will appear, among other settings, you are able to configure your cash drawer by enabling it and entering kick drawer command.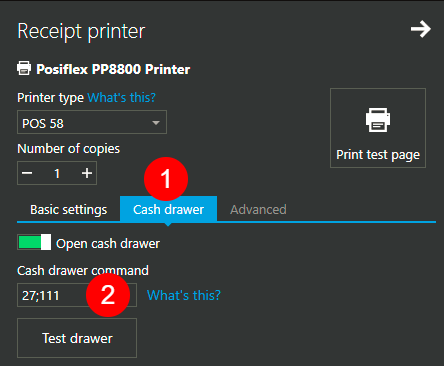 To open cash drawer after receipt is printed, make sure "Open cash drawer" option is enabled.
Enter your printer cash drawer command in "Cash drawer command" field (default may be set to "27,112", as standard EPSON command used for this purpose). You can find available cash drawer codes below.
Cash drawer and payment (tender) types
Additionally, you can configure each payment type to open cash drawer when used. 
Read more here how to configure and enable/disable cash drawer for each payment type.
All payment types has cash drawer enabled by default.
Printer and cash drawer commands
If you are not sure what cash drawer commands your printer is using, you should contact your printer supplier or consult manufacturer documentation for more info.
Formatting commands
Commands can be separated by any character, standard character used for ESC/POS command separation is comma.
For example, "27,112,48,55,121" is standard EPSON command, where "27" represent "escape" character, telling the printer to enter command mode, and the rest is used to initiate opening a drawer.
IMPORTANT: For most ESC/POS printers, commands must begin with "escape" character, as provided in list below.
Open drawer codes
Note
The following list is taken from http://keyhut.com/popopen.htm. More information about setting up ESC/POS printer can be found on that address.
Manufacturer
Model
Drawer Codes
3NSTAR
LPT005
27,112,0,25,250
AGPTek
SC9-5870
27,112,0,25,250
Appostar
RTP-3280
27,112,0,25,250
Axiohm
A715
A756
A794
27,112,0,48,251
OR
27,112,1,49,251
Bematech
MP-250TH
27,118,140
Bematech
SRP-350PLUSiii
27,112,0,50,250
Bixolon
SRP-150UG
27,112,0,50,250
Bixolon
SRP-275
27,112,48,55,121
Bixolon
SRP-280
27,112,0,64,240
Bixolon
SRP-330
27,112,0,25,255
Bixolon
SRP-350
SRP-350ii
27,112,0,50,250
Bixolon
SRP-375P
27,112,48,55,121
Code Soft
3200 SERIES
27,112,0,25,250
Code Soft
DP7645III
27,112,48,55,121
Custom
Q3
27,112,0,50,250
Dell
T200
7
DCAPOS
POS 8350
27,112,0,25,250
DIGIPOS
DS-800
27,112,48,55,121
EC-Line
EC-PM-520
EC-PM-80330
27,112,0,40,168
EC-Line
EC-PM-5890X
7
Epson
?
27,112,48,55,121
Epson
TM-T20
27,112,48,55,121
Epson
M51PD
27,112,0,25,250
Epson
TM-T60
27,112,32,25
Epson
TM-L60II
27,70,0,50,50
Epson
TM-T70
27,112,48,55,121
Epson
TM-T80P
27,112,0,25,250
Epson
TM-T81
27,112,0,25,250
Epson
TM-82
TM-82ii
27,112,0,25,251
Epson
TM-T85
27,112,0,25,250
Epson
TM-T88
27,112,0,25,250
Epson
TM-T88II
27,112,0,25,250
Epson
TM-T88IIP
27,112,48,55,121
Epson
T88iii
27,112,0,25,250
Epson
T88iiiP
27,112,0,64,240
Epson
TM-88IV
27,112,48,55,121
Epson
TM-88V
27,112,48,55,121
Epson
TM-90
27,112,0,25,250
Epson
M115A
27,112,0,25,250
Epson
M129C
27,112,0,64,240
Epson
M188A
27,112,0,25,250
Epson
M188B
M188D
27,112,48,55,121
Epson
M192C
27,112,0,64,240
Epson
M192H
27,112,0,64,240
Epson
T200
27,112,0,25,250
Epson
TM-200
27,112,0,64,240
Epson
TM-200
27,112,0,25,250
Epson
TM-U200B
27,112,48,25,250
Epson
TM-U200D
27,112,0,64,240
Epson
TM-U210PD
TM-U210D
27,112,0,25,250
Epson
TM-220
27,112,0,25,250
OR
27,112,0,64,240
Epson
TM-U220
27,112,0,25,250
OR
27,112,0,64,240
Epson
TM-U220A
TM-U220PD
27,112,0,25,250
OR
27,112
Epson
TM-U220B
TM-U220PD
27,112,0,25,250
Epson
TM-U220D
TM-U220PD
27,112,0,25,250
Epson
M253A
27,112,48,55,121
Epson
TM-U295
27,112,48,55,121
Epson
ADP 300
27,112,0,25,250
Epson
TM-300D
27,112,0,25,250
Epson
LX-300+
27,112,0,25,250
OR
27,112,48,55,121
Epson
TM-U300PC
TM-U300PD
27,112,0,25,250
Epson
TM-U325D
27,112,0,25,250
Epson
TM-U375
27,112,0,25,250
Epson
ECP-500
27,112,48,55,121
Epson
M665A
27,112,48,55,121
Epson
TM-T883P
27,112,0,50,250
Epson
TM-U950P
27,112,0,50,250
Epson
TM-H5000II
27,113,0,25,250
OR
27,25,247
Epson
TM-H6000
TM-H6000ii
27,112,48,55,121
Epson
TM-J7100
27,112,48,55,121
Essae
PR-85
27,112,0,100,100
Gainscha
GP-80160
27,112,0,100,250
Goangzhou
AB-88A
27,112,0,50,250
Gprinter
GP-5890
GP-80160
27,112,0,100,250
Fujitsu
fp-350
27,112,0,48,251
Fujitsu
fp-410
27,112,1,49,251
HP
A798
A799
A799-C40W
27,112,0,8,8
HPRT
TP805
27,112,0,250,250
IBM
4610
7
IBM
4610
27,112,0,50,250
IBM
Sure POS
27,112,0,250,250
IDIPOS
AB-88H
27,112,0,50,250
INFOCOMM
P80
27,112,0,50,250
Ithaca
PcOS 50
27,112,0,25,250
or
7
Ithaca
PcOS 51
27,112,0,25,250
or
7
Ithaca
PcOS 52
27,112,0,25,250
or
7
Ithaca
POSjet
27,112,0,25,250
Ithaca
80 PLUS
27,120,1
Ithaca
SERIES 90
27,120,1
Ithaca
SERIES 94
27,120,1
Ithaca
150
27,120,1
Ithaca
280
27,112,0,250,250
27,112,1,49,251
Ithaca
iTherm 280
27,120,1
27,120,2
Ithaca
POSjet 1000
27,120,1
27,112,0,25,250
Jolimark
TP820
27,112,0,100,250
Kasir Enibit
P58B
27,112,0,25,250
Koohii
SMART 300
27,112,0,25,250
MetaPace
T1
T3
27,112,48,55,121
NCR
7167
7179
7197
Drawer #1
27,112,0,55
Drawer #2
27,112,1,55
NCR
7223
27,112,80,25,250
NEC
TSP-100
7
NEXA
PX700
27,112,0,50,250
Obvios
ORP-800
27,112,0,25,250
Ojuled
POS58
27,112,0,25,125
Oki
OKIPOS 407
7
Oki
OKIPOS 1000
27,120,1
Olivetti
PRT-100
27,112,0,25,250
POS-X
PT3
27,112,0,25
POS-X
XR-200
XR-250
XR-500
27,112,0,25,250
POS-X
EVO-RP1
27,112,0,25
Posiflex
CR 4200
27,112,80,25,250
OR
27,112,0,25,250
Posiflex
AURA 5600
AURA 8000
27,112,0,25,250
or
27,112,80,25,250
Posiflex
PP6000
PP6900
PP7000
PP8000
27,112,0,25,250
Samsung
STP 131
27,112,0,48,50
Samsung
SRP 220
27,112,48,55,121
Samsung
SRP 270
27,112,0,25,250
OR
27,112,0,60,240
Samsung
SRP 270A
27,112,0,64,240
Samsung
SRP 275
SRP-275AP
SRP-275C
27,112,48,55,121
Samsung
SRP 350
27,110,0,25,250
Samsung
SRP 350T
27,112,0,50,250
Seiko
ESC-POS
RP-B10
RP-E10
Drawer #1
27,112,0,50,250
Drawer #2
27,112,1,50,250
Sensonic
T-300
27,112,0,25,250
Sewoo
LK-TL-322
27,112,0,50,250
Shenzhen
POS-8350
27,112,0,25,250
Sinocan
PO6-U/S/L
27,112,48,55,121
SNBC
BTP-M280
27,112,0,50,250
SNBC
BTP-R880NP
27,112,48,55,121
SNBC
BTP-2002NP
27,112,48,40,200
Star
All?
27,7,11,55,7
Star
TSP 100
TSP 100ii
7
Star
TSP 100IIU
27,7,11,55,7
Star
SP200
SP200-2
SP212
27,7,11,55,7
Star
TSP200
27,7,11,55,7
Star
SP500
27,122,49,7
OR
27,7,11,55,7
Star
SP512
27,122,49,7
Star
SP550II
27,7,10,50,7
Star
TSP-600
7
OR
27,7,10,50,7
Star
TSP-613TSP-650TSP-654iic
7
27,7,10,50,7
27,7,11,55,7
Star
TSP-700TSP-700ii
27,07,11,55,07
Star
TSP-743ii
27,7,11,55,7
Star
SP2000
27,122,49,7
Star Micronics
TSP-650
27,112,0,48
Star Micronics
dp-8340fm
27,7,11,55,7
Syncotek
SP-POS88VI
27,112,48,32,64
TEC
RKP300
27,112,0,100,250
TEC
TRST-A10
27,112,48,55,121
TEC
TRST-53
TRST-56
27,112,0,100,250
Toshiba
TRST-A10
TRST-A15
27,112,48,55,121
Toshiba
SUREPOS500
27,112,0,250,250
Toshiba
SX2100
27,112,32,55,255
TOSHIBA TEC
DRJST-51
27,112,0,100,250
TPG
A776
A794
A798
27,112,1,49,251
TVS
RP-3200
27,112,0,100,250
TPG
A799
27,112,0,8,8
Tysso
PRP076
PRP300
27,112,0,50,250
UCOM
U808
27,112,0,25,25
Unisys
EF4272
27,112,0,100,250
WASP
F100
WTP-100
27,112,49,48,48
WESTREX
4200
7
Xprinter
XP-C20-K
XP-360
XP-350-B
27,112,0,148,49
Zjiang
POS-58
27,112,0,150,250
Zjiang
ZJ-8200
27,112,0,48,48
Zjiang
ZJ-8250
27,112,0,25,250
Zonerich
AB-88H
27,112,0,50,250