This section contains print related options. Here you can set where your documents will be printed.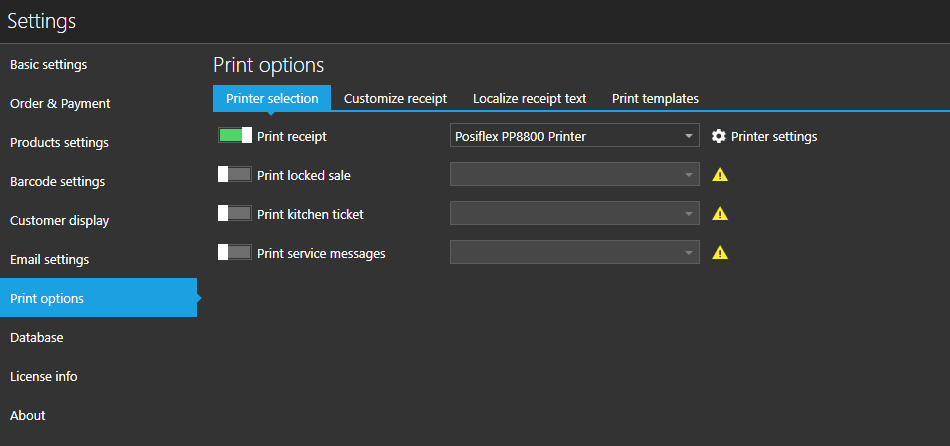 To enable print for a specified action, enable selection and select a preferred printer from a drop down menu on the right. Printers available in a drop down menu are the printers only installed in the Windows OS, using proper Windows driver. Please check if your printer is installed and available in the Windows Control panel > Devices and printers.
Available print operations are:
Print receipt
If enabled, receipt, X and Z report will be printed on selected printer
Locked sale
If enabled, estimate will be printed on selected printer
Kitchen printer
If enabled, orders will be printed on selected printer
Print service message
If enabled, user cash out report will be printed on selected printer
Once operation is enabled and printer is selected from list of available printers, cog icon is displayed, allowing you to set properties for selected operation and printer.

Selecting printer type
Before you start setting up your printer, please select appropriate printer type from the list.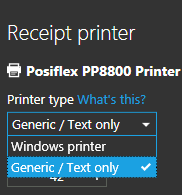 Each printer type has specific settings. Information how to set up printer for each printer type can be found at the following pages:
Printer options
Please note that some of the options available depends on selected print operation and printer type.
For example, "Cash drawer" is available for "Print receipt" operation only, and "Advanced" tab is available for "Generic / Text only" printer type.
You can use these options to translate receipt to your language and adjust additional system and printer settings like:
Use system currency format
Print tax totals
Print items count
Set number of decimal places used in application and receipt
Read more about receipt customization at "Customize receipt" page.
You can customize or translate all text that are printed in receipt.
Also, you can chose if you wish customer details labels to be printed or not.
Read more about localizing receipt at "Localize receipt text" page.
Gives you the ability to customize A4 templates, including invoices and reports.