Print options gives you the ability to choose whether you wish currency symbol to be printed on your receipt or no.
Price and currency format depends on your Windows settings, whatever is set in Windows Regional and Language options will be used by Aronium and will be printed in receipt and invoices.
If you wish to print other symbol that the one currently set, check your Regional and Language options in Windows Control Panel and make sure currency symbol is set to desired one.
To access regional options and change your currency symbol, go to "Settings > Print options" and select "Customize receipt" tab. from there, click "Open regional settings" to open Windows' regional options.

When you open "Region" Windows settings, do the following:
Click "Additional settings" in bottom right corner, new window will open
Select "Currency" tab
Change your currency symbol to desired one and save changes.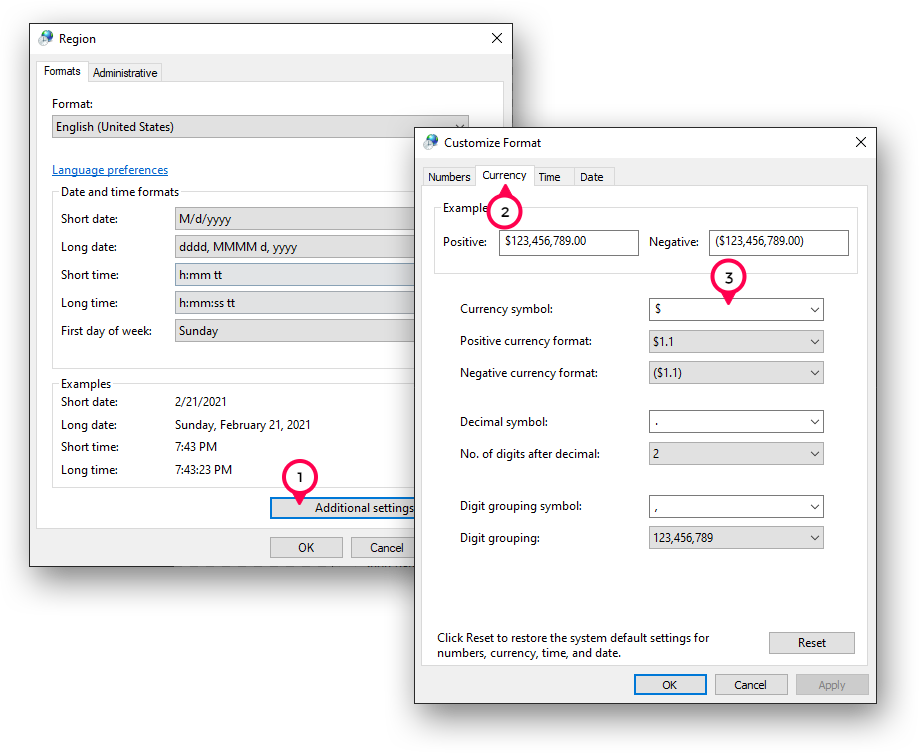 Accessing regional options outside Aronium
If, for any reason, you are not able to open Regional settings from Aroinum, please read "Where is Control Panel?" article from Microsoft support site.
Restart required
You may need to restart Aronium for these changes to take effect if you change currency settings outside Aronium.
Open regional options using Run command
Alternatively, you can access Windows regional options by pressing "Windows key + R", enter the following command in text box and click OK button.
control intl.cpl