Quick discount
To apply discount directly from sales screen, press "Discount" button or F2 on your keyboard.

Discount dialog will appear, allowing you to set cart and/or item discount, if item is selected.
You can combine discounts by setting fixed or percentage discount to a card and apply discounts to individual items at the same time.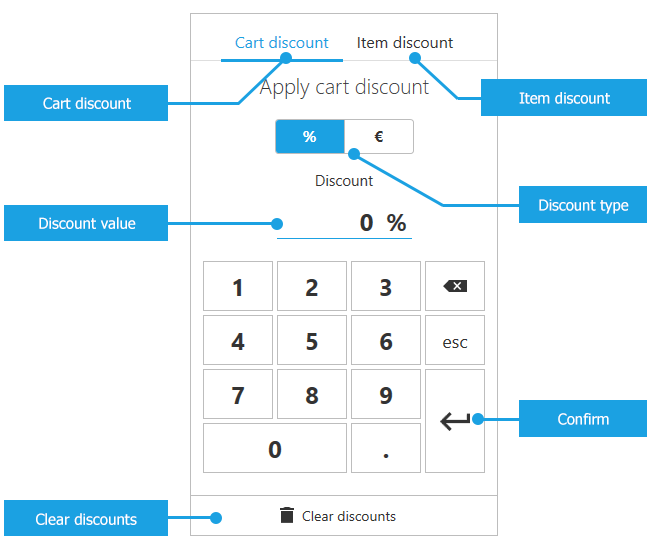 Tax calculation
Aronium calculates taxes after discounts.
This means that item's base price is calculated with discounts applied and tax is added to that discounted price.
For example, if you are selling and item with 18% tax for $118, after 50% discount is applied, 18% tax will be calculated on $50, resulting in item total of $59.
Discount dialog
Discount dialog contains the following options:
Cart discount
Applies discount to the current sale. 
Item discount
Sets discount to selected item. If no item is selected, notification will be displayed.
Discount type
Switch between fixed amount and percentage discount
Discount value
Fixed amount or percentage discount, depending on selected discount type
Confirm
Confirm button. Once you have entered desired discounts, hit confirm button to apply changes and close the dialog
Clear discounts
Clears all previously set discount in current sale
Discount from payment screen
Once your sale is ready, from payment screen click a "Discount" button. Discount screen will be open allowing you to add discount to specific items or to an entire sale.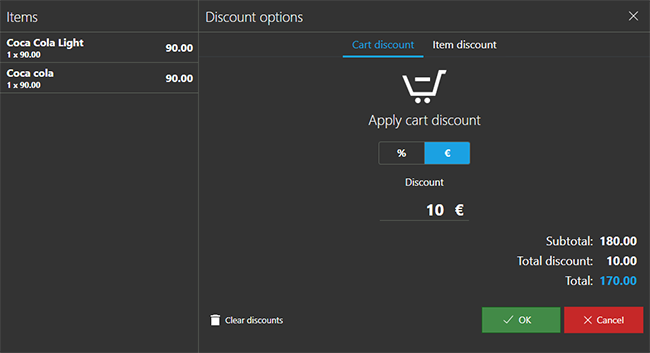 Applying cart discount
If you wish to apply discount to the sale, enter discount value in discount value field with "Cart discount" tab selected.
Applying discount to specified items
If you wish to apply discount to a specified item, or to apply different discounts to the sale, select "Item discount" tab.
Discounting voided items
Discounts are not allowed for voided items. In case selected item is voided, item discount will be disabled.
Once you have changed selection to "Item discount" tab, select the item you wish to discount from the left side, and enter a discount value.
You can repeat this operation for every item in a current sale.
Discount summary
Once discount is applied, "Discount" button will display a check-box, indicating that current sales has discounts applied.

Customer discounts
If you have selected a customer with predefined discounts, discount button will be disabled.